Google Street View adds Royal Caribbean's Allure of the Seas cruise ship
In:
Google has added the biggest cruise ship in the world, Royal Caribbean's Allure of the Seas, to its popular Street View program.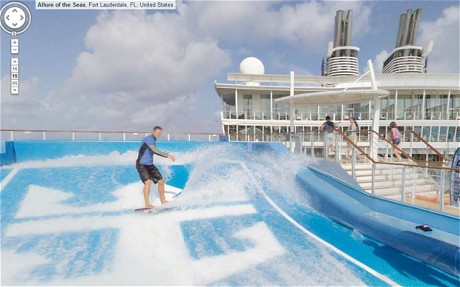 Google Maps Business View, the commercial aspect of Street Views, added Royal Caribbean's flagship so site visitors can take a virtual tour of the ship.
The new tour offers a few spots on the ship site visitors can peek around with their web browser.  It does not cover the entire ship, so users will be limited to a few areas, rather than a seamless non-stop tour.
Once on Street view, you will be able to select from a series of options to enable them to "tour" the ship's restaurants, cabins and pools as well as the ship's "unique activities", including the FlowRider, rock-climbing wall and zip line.
Google created the Street View experience using a DSLR camera with a fisheye lens and a panoramic head resting on a tripod.
You can view the Google Street view on Allure of the Seas here.