15 important things to do on your first day on a Royal Caribbean cruise
In:
The excitement of your first day on a Royal Caribbean cruise is unparalleled in magnitude.  Your entire vacation is in front of you, and the fun is only beginning.  
Once you are step foot onboard your ship, there is plenty to see and do, but you want to take advantage of these first few hours onboard to ensure you have the best possible cruise. Here is our list of things to do once you are onboard your Royal Caribbean cruise.
1. Eat lunch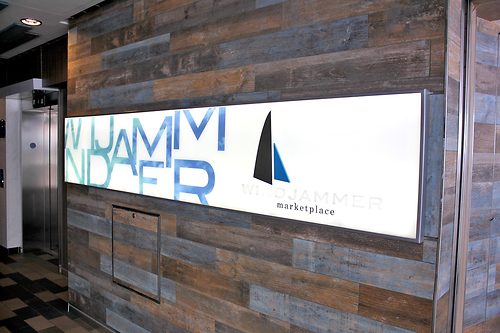 Most cruisers get a bite to eat once onboard the ship, primarily because it is right around lunch time and with all the activity getting to this point, plenty of energy has been expended. Plus, lunch on embarkation day is one of those moments you can sit back and take in the gravity of excitement that you are really onboard.
There will be a few spots onboard to eat lunch. The Windjammer is the most popular of these choices, given the wide variety of food available.  There are also other good choices that may not offer as much food as the Windjammer, but do lack the crowds that tend to affect the Windjammer. Depending on which ship you are on, there can be some good alternatives that get you fed and on your way. Sorrento's, Cafe Promenade and Park Cafe are a couple of favorites.
2. Sign up for specialty dining reservations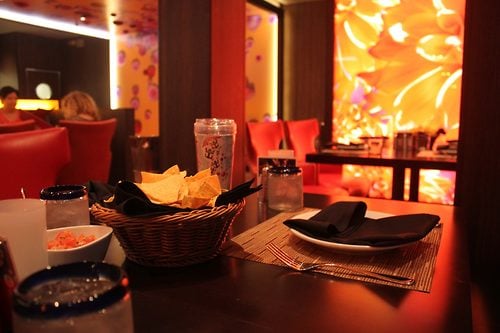 If you want to dine at one of the specialty restaurants onboard and opted to wait to book these restaurants onboard, you will want to make reservations sooner than later. Embarkation day is a great time to lock in a day and time to ensure there is space for you.
As the cruise progresses, tables for specialty dining get booked up quickly, especially as new cruisers discover these terrific choices.  Formal night reservations are usually the first to sell out, with sea days and the rest filling up quickly.  You could risk trying to walk up and get a table later on in the cruise, but a reservation assures you of a spot for you.
Reservations can be made for any specialty restaurant by going to Guest Services or by going to any specialty restaurant. If your ship has Royal iQ, you can make reservations directly in the app. Additionally, there is a dining reservation hotline you can dial from your stateroom phone.  Finally, reservations can also be made for guests by Diamond Lounge and Concierge Lounge attendants.
3. Take care of any dietary requests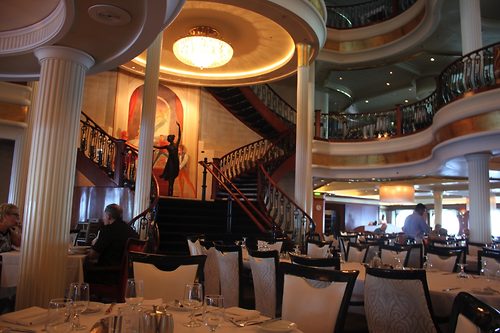 Whether you have a dietary restriction or just a special request with your meals, you will want to go to the main dining room and speak to the head waiter on duty about making dietary requests.
There is usually a few hours on embarkation day where a head waiter is on duty to take requests. These requests can be for a table or dining rotation change, dietary request or anything else special you want to make certain is taken care of.  
This is also a good time to scope out which table you have been assigned to and if there are any issues with the table location or size of the table, speak to the waiter then.
4. Register children for Adventure Ocean and the Nursery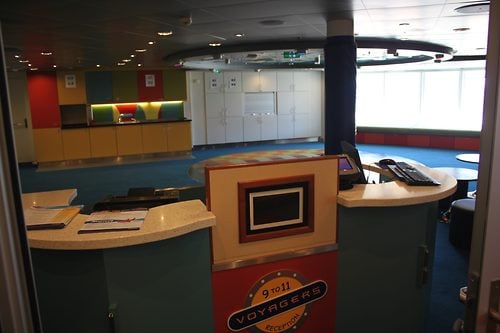 If you have kids, you will definitely want to register them for Adventure Ocean or the Royal Babies and Tots Nursery on embarkation day.  This process is pretty quick, and allows the children time to explore the Adventure Ocean facilities, while providing the staff all the pertinent information on your child.
Registration times for Adventure Ocean will be posted in your Cruise Compass, as well as on the door to any Adventure Ocean room.  Once inside, kids can check things out while parents fill out a quick form. Even if your kids are uncertain if they will go to Adventure Ocean, registering them is quick, and it makes for less time wasted later on in the cruise. You may also find an Adventure Ocean table set up elsewhere on the ship to provide details about what Adventure Ocean is, and offer documentation on what kind of activities will be offered.
If you child is less than 36 months old, she/he can be registered for the Nursery. The Nursery will also allow parents to reserve some time in advance, so be sure to review what to expect when booking nursery time.
5. Explore the ship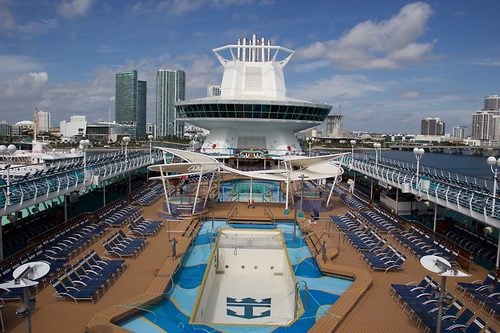 Be sure to take plenty of time to get to know your ship once onboard, and the best way to do that is by walking around it and exploring.  While you can learn a lot from looking at deck plans, or reading Cruise Compass', nothing beats actually walking the ship.
Getting acclimated with where everything will make your cruise easier since you will spend less time trying to locate everything. Plus you may discover something onboard you did not know existed!
6. Take a tour of the spa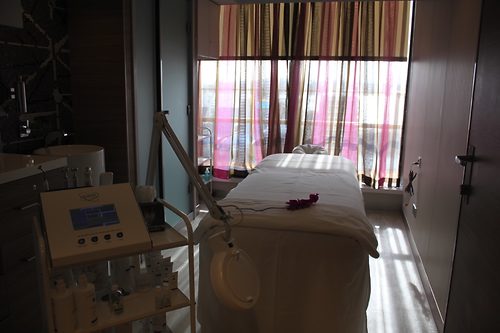 The Vitality Spa offers complimentary tours of the spa and fitness centers and while it is a sales pitch, it's fun to see the facilities available and something fun for the whole family to do.  
If you want to book a treatment for a particular day and time, you will want to make an appointment early before things start to book up.  There's also a raffle that you can sign up for and perhaps win a free treatment.
7. Sign up for exercise classes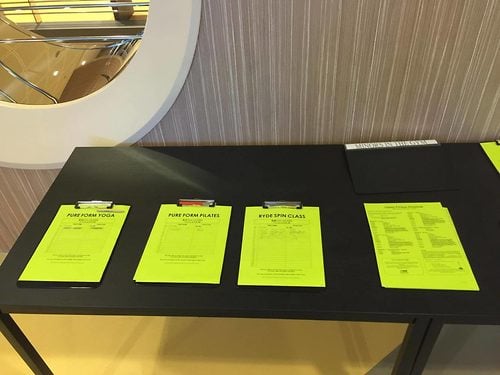 While you are touring the spa, the fitness center is in the same area, and this is the time to put your name down for a spot in any of the fitness classes offered.
Royal Caribbean offers a good variety of fitness classes, with some complimentary and others having a small cost associated with them.  If you have any desire to be included in a class, you will definitely want to sign up for them early.  All too often guests wait too long to sign up, or try to walk in for a class only to find the limited spots are filled.
There will be a table with sign up sheets near the entrance to the fitness center where you can sign up.  There is no obligation, so you can sign up and only be charged if you make it to the class.
8. Go for a swim in the pool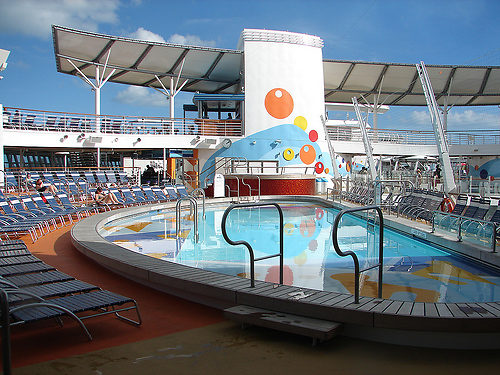 Did you know the pools and hot tubs are open on embarkation day? Most guests do not even think about swimming when they first get onboard, and that is why it is one of the best times for a swim.  By far the least crowded time at the pool will be embarkation day because most guests have their swimsuits in their luggage, which is in the process of being delivered to their staterooms.
If you bring your swim suits with you (or wear them before you get onboard), then head to the pool and enjoy uncrowded pool time. Do not worry, there will be pool towels on the pool deck available to borrow there too.
9. Make phone calls or text messages before the ship leaves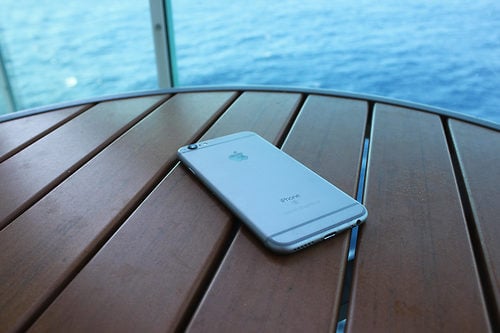 Odds are you are sailing to a foreign port of call and more than likely using your cell phone in those countries will cost you a lot of money in roaming charges.  The best strategy is to use your phone to make calls or send text messages, and then place it into airplane mode to ensure you do not encounter roaming fees.
Your phone will work normally while your Royal Caribbean ship is docked, and will even continue working a few hours after sailaway.  Refer to our guide for using your cell phone while on a Royal Caribbean cruise to ensure you do not come home to unexpectedly large bills.
10. Inspect your stateroom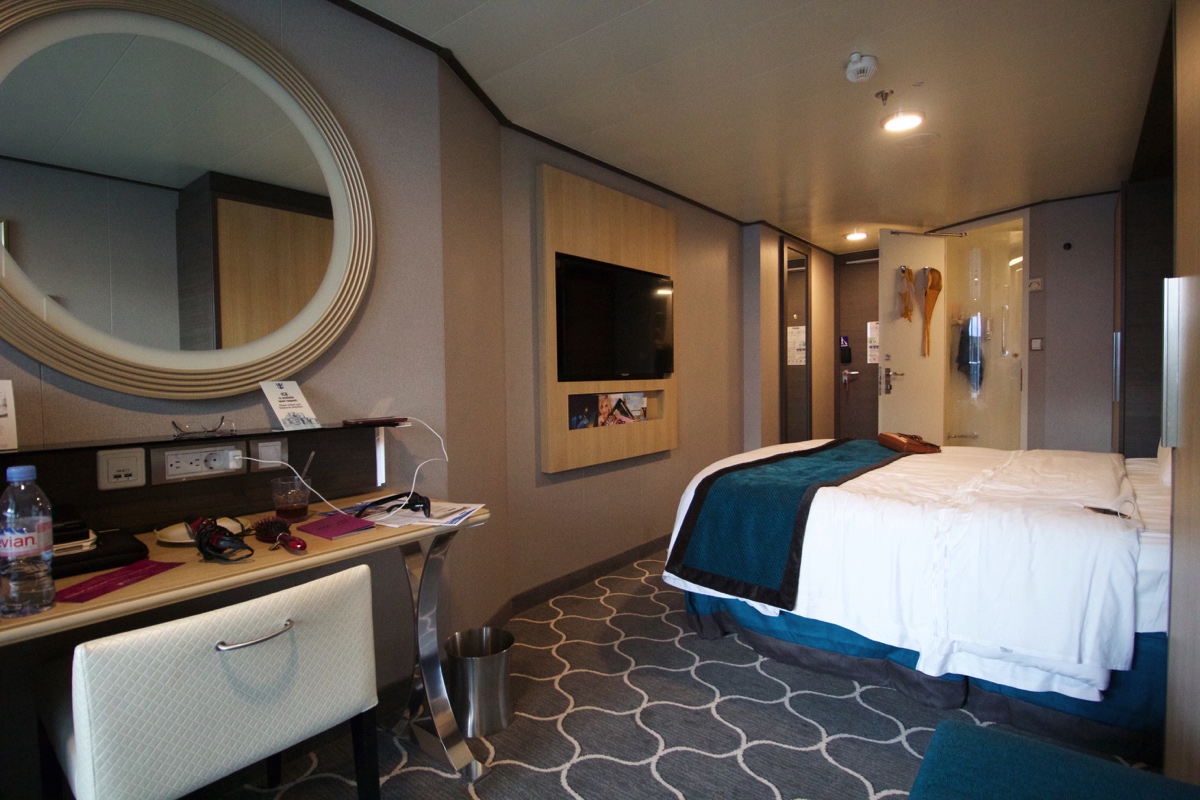 Once your stateroom is ready (usually around 1pm), be sure to go inside and make sure everything is working and that everything that should be there is there.
Test out the air conditioning, check to see if the crib you requested is present and that things like the television and toilet are functioning properly. Be also certain to test your in-room safe, as this is your dedicated spot to store valuables and you want to make sure this is working correctly and you know how to operate it.  Take a few minutes to understand how to open and lock your safe, and make sure it functions as it should. If it does not, you will want to let Guest Services know as soon as possible.
If anything is broken, put in a request with maintenance (via your stateroom telephone) now while the ship has extra maintenance crew members onboard.
11. Meet your stateroom attendant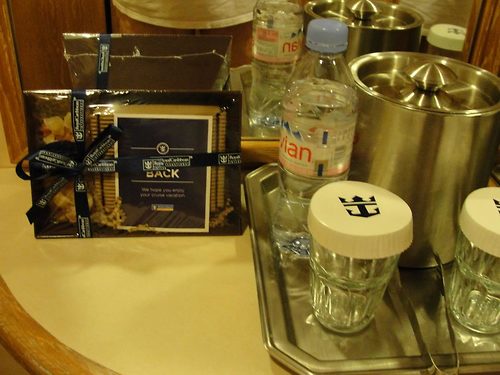 The crew member you will likely interact with the most is your stateroom attendant.  She/he will be responsible for ensuring your room is stocked with plenty of towels, buckets of ice, as well as cleaned and arranged twice per day.
If you have special requests of the stateroom attendant, it is important to convey them early on so that they can be taken care of quickly.  Your stateroom attendant can handle things like ensuring there is always a bucket of ice in the room or bring you extra towels and blankets.
Often the stateroom attendant will be around meeting you and the other guests in their loop of rooms they are are responsible for, so feel free to introduce yourself.
12. Organize things in your stateroom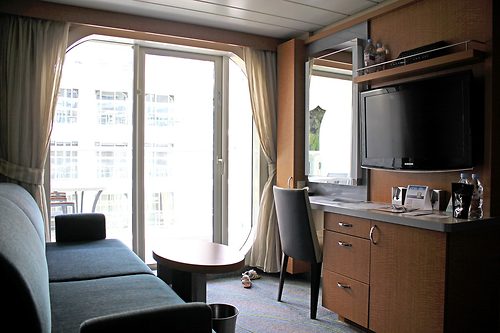 Whether you choose to unpack everything or live out of a suitcase, it is a good strategy to put some of the things in your room away so there is less clutter all around.  This has less to do with keeping your room clean, rather, it is about keeping things organized.
There is always something going on during your Royal Caribbean cruise, and knowing where the important things are makes your life easier. Plus, it seems like there is always some down time before the muster drill, so take the opportunity to unpack your toiletries, put nicer clothes on hangers and store luggage under your bed. 
You will be happy when you return to your room after an evening of dining, drinks and fun to not have to start putting away all of your stuff.
13. Find a spot for sailaway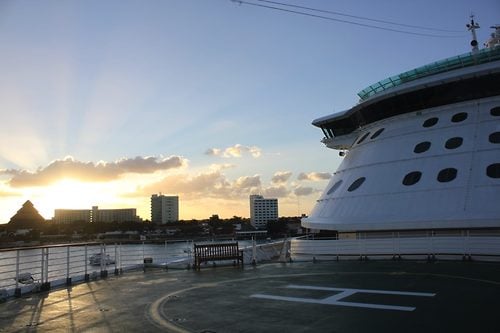 When it is time for your Royal Caribbean ship to leave its embarkation port and begin the cruise, you will want to find a great spot to take it all in. 
A very common choice is the sailaway party, which is usually held at the pool deck. There will be music, dancing and a whole lot of celebrating with the ship's activities staff.  If you want something quieter, consider finding a spot near a railing that overlooks the port area.  A hidden spot available on many ships is the helipad, which offers a fabulous vantage point.
If you are staying in a stateroom that has a private balcony, it is hard to beat that kind of a spot for sailaway.  Grab some drinks from the bar and bring it down to your stateroom to enjoy on the balcony. After all, having a balcony stateroom means you do not have to compete with anyone for a spot (except perhaps your kids).
14. Skip Guest Services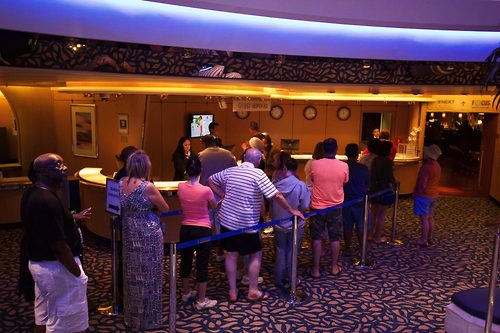 This is the one tip that is more about not doing something than remembering to do something, and that is to avoid the Guest Services line if at all possible.  Unfortunately, the line for Guest Services is always longest on embarkation day, because many guests have first-time cruise questions and end up there to get them resolved.
If possible, wait to speak to someone at Guest Services until the next day or during dinner hours.  In our experience, most issues can wait until later, and unless it is something that needs immediate attention and/or cannot be remedied by your stateroom attendant, you should avoid the long Guest Services lines on embarkation day.
15. Have a cocktail!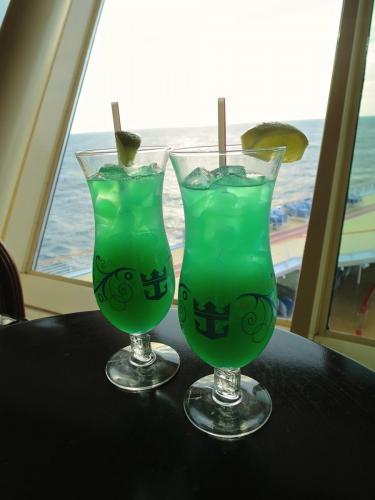 Last, but not least, take some time to relax and savor the moment. You are officially on vacation, so grab a drink at a bar and toast the start to what should be a fantastic time at sea.
This may not sound like a big deal but getting things started off on the right foot is always a good idea and sets the tone for the rest of your vacation.