Why Shrek isn't as important as George Washington
In:
Earlier today, Royal Caribbean and Dreamworks announced their "strategic alliance" together to bring select characters from the Dreamworks film library to Royal Caribbean ships.  The obvious conclusion many have made from the deal is that the move is to counter Disney's character driven ships along with Norwegian Cruise Lines' addition of Nickelodean characters to their ship.  The idea seems great and obviously a push to convince families to sail on Royal Caribbean, but I think there's more here than just the characters and Shrek and his pals are merely the icing on a cake that has been baking for a while.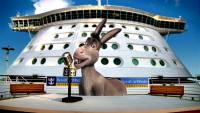 To the average observer, it seems like the Dreamworks deal with Royal Caribbean is a grand plan to add characters to the ships and get families to book with Royal Caribbean instead of other ships.  That makes sense....if all the cruise line prices were the same.  Considering that the Norwegian deal with Nickelodean was signed less than a year ago and in the press conference Royal Caribbean mentioned the deal with Dreamworks had been in discussion for longer than that, the move looks more like an attempt to counter Disney.  After all, Disney is the leader among children branding and what kid doesn't want to be on a ship with Mickey, Minnie, Donald and friends?
There's just one little problem for parents who want to take their kids on a Disney ship. Price! Disney cruises are almost always more expensive than a typical Royal Caribbean cruise of equal length.  Disney justifies the higher price by calling it "the Disney difference", where their premium branding commands a higher price tag.  If you're planning the next family cruise, it's hard to convince the kids that a cruise on Royal Caribbean is a better deal when the kids just care that the Disney ship has lots of characters and other fun related activities.  
With the Dreamworks deal, it gives Royal Caribbean some collateral to work with in the ever competitive task of marketing to kids.  Now, they can flaunt characters from Shrek, Madagascar and Kung Fu Panda, films that have resonated with this generation of youth, and so when parents have to plan their next cruise, it's a far easier sell to kids with these contemporary characters and the price difference between Disney and Royal Caribbean should be big enough for most to look to Royal Caribbean.
The alliance has a lot of hype going with it as Royal Caribbean is proud of the deal, but I really see the deal as being that final piece in the puzzle that they needed to get families to choose Royal Caribbean over other lines that have traditionally done well to attract the family demographic.  If now you have the kids begging their parents to go on the ship that Shrek is on, I think it's a far easier sell for families to book it, especially given the price difference.  Disney's prices were decent when times were great, before the great recession.  Today, it's a different financial landscape and if you can save a few hundred dollars, it's well worth it and now, families don't have to sacrifice the things that kids love too.