Enter contest to become the next chef on Allure of the Seas
In:
Are you an aspiring chef? Looking to combine your love of cooking with your passion for cruising? Well, Royal Caribbean has the contest for you.  The "Allure of the Seas Culinary Challenge" offers wanna-be chefs the opportunity to become the next Chef de Cuisine of 150 Central Park, the signature restaurant onboard Allure of the Seas, the cruise line's newest ship which will make her debut in December 2010.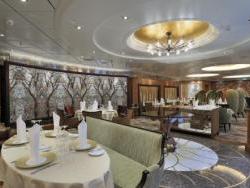 If you are a graduate of The Culinary Institute of America with an AOS or BPS degree, then you can enter this contest by creating an original recipe you think could be the next signature dish at 150 Central Park restaurant and create a video of you cooking this dish.  Entries must be received by Sunday, June 20 at 11:59 p.m. ET.
For those of us who can't cook (hello fellow bad cooks!), Royal Caribbean will open the contest up to online voting, which begins on Monday, June 28 at 12:00 a.m. ET and ends on Sunday, July 11 at 11:59 p.m. ET. Consumers can vote once per day for his/her favorite chef.  The top five entries with the highest number of votes, as well as one entry selected by the contest judges, will become finalists and will be invited to participate in a final challenge held at The Culinary Institute of America's Hyde Park campus in New York on August 5 & 6.  The finalists will compete to cook a three-course meal for a panel of judges before a winner is selected to become the next Chef de Cuisine.
Full contest details, deadlines, rules and other important information.  Good luck to anyone who enters!