Mariner of the Seas debuts in Italy
In:
Royal Caribbean's Mariner of the Sea arrived for her new Mediterranean itineraries for the first time in Italy.  The ship arrived in the early hours of the morning to Civitavecchia, where she will be home for the entire 2011 season, until the end of October.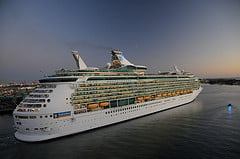 During the "Italian baptism," the ribbon-cutting ceremony has been entrusted to champion Fiona May. Mariner of the Seas was also the scene of a unique event, "Run for Royal", the first 3km never sailed on a cruise ship, which involved five runners.
Yesterday in Civitavecchia, in the presence of a large group of journalists, travel agents, port authorities and sports stars and entertainers, there was an Italian baptism of Mariner of the Seas, the new queen of the Royal Caribbean's Mediterranean Fleet, for the first time in the Mare Nostrum.
The ship's godmother of the event was Fiona May, an Italian athlete, twice world champion of long jump, welcomed on his arrival the ship was established in 2003.
Lina Mazzucco, general manager Royal Caribbean Italy, explains the choice: " In a lively and passionate character and style of Fiona, we recognized the spirit of Mariner of the Seas, a ship full of character, dedicated to the Italians, lovers of sport and a holiday at the same time dynamic and healthy, which makes the wishes of the family. Its elegance, femininity and perseverance in life as in sport, we did see in her the perfect spokesperson for this amazing ship . "
For the first time ever in the history of the company, the ship will depart from Genoa Royal - apart from Civitavecchia - and will offer seven-night cruises to the guests that will touch Cannes, Ajaccio, Barcelona, ​​Palma de Mallorca.