Nine days at Sea? No problem! Writer tells of first cruise between Bahrain and Spain
In:
Can you imagine nine sea days? Can you imagine nine sea days on your first cruise?  Curt Brandao's first foray into cruising was aboard Royal Caribbean's Brilliance of the Seas from Bahrain in the Middle to East to Spain in Europe.  His cruise included nine straight days at sea, a Royal Caribbean record, and he wrote about his experience.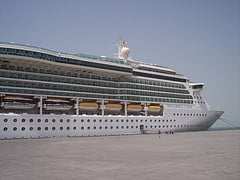 Some said it was the cruise equivalent to making Mount Everest your first hike. Actually, there is no cruise equivalent to hiking Everest, which is, indeed, part of the appeal of cruising - but that's the kind of hyperbole that begins to make sense after several days on the water.
We found our first day on the ship was like the first day at a new school. We got lost a lot, staring at deck maps near the elevators for minutes and not seconds. But it was a lot to take in. While not the biggest floating hotel on the water (a title that belongs to one of its sister ships, the 360-metre Allure of the Seas), the nine-year-old, 293-metre Brilliance of the Seas has 12 decks and can hold more than 2,500 passengers. From rock-climbing walls to pools and Jacuzzis to golf simulators, not to mention a cinema and a two-tier theatre for live performances, it takes a while to learn not only where to go, but what you can do once you get there.
The beds were particularly cosy. The bathrooms were cramped, of course, but the water pressure in the tiny shower was better than in my last four apartments. For the last week of the cruise, we managed to get a cabin upgrade, which afforded a few more square metres of space and a private balcony just in time for great views of Sicily and Italy.
Ultimately, it was like summer camp in the ocean, and I'm glad I went. I feel so brave.