More than 18,000 cruise passengers will pass through Malaga during August City Fair
In:
During the month of August, the city of Malaga, Spain will celebrate August Fair City, which begins on August 13 and ends the 20th, and the annual celebration will see more than  18,000 cruise passengers pass through.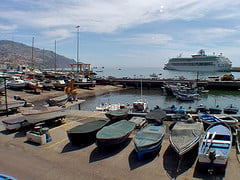 Specifically, expected to arrive at the port of Malaga is Royal Caribbean's  Adventure of the Seas, which has a maximum capacity of 3838 passengers and 1,185 crew, and it will be based out of Malaga. So will both Saturday August 13th and 20th at 06.00am from Ajaccio ( France ) to Malaga and depart the premises, both days at 17.00 bound for Valencia.
The second ship with more capacity - 2446 passengers - will arrive these days at the port of Malaga is the Grandeur of the Seas, on August 18 at 07.00 hours. Its earlier stop Ibiza and Malaga depart at 20.00 hours that same day towards Gibraltar.