Extreme weather damages Royal Caribbean's Freedom of the Seas
In:
Royal Caribbean is reporting damage to its Freedom of the Seas cruise ship after the ship encountered, "extreme wind and sea conditions, well beyond what was forecasted."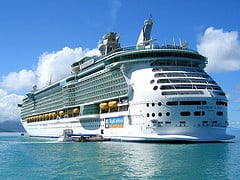 The damage occurred as Freedom of the Seas left Port Canaveral on Sunday and did report some injuries as well as damage to the ship.
In a statement by Royal Caribbean, the company described the results of the incident, "At this time there have not been any serious injuries reported. The ship has sustained some damage to the public areas and guest staterooms, which in no way affect the sea-worthiness of the ship."
The damage is not enough to alter Freedom's itinerary.  It is expected to continue on its course to the Eastern Caribbean this week.