Rumors of a second Project Sunshine ship swirl
In:
Royal Caribbean has been tight lipped about its new class of cruise ships known as Project Sunshine  but the cruise community has been speculating about how many ships Royal Caribbean will order.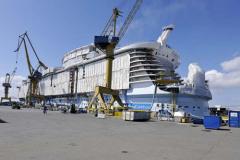 As of today, there's just one 4,200 passenger ship on order (which is due to be complete by the fall of 2014) but there's room in the contract for up to 4 ships.  So among the many questions out there, many are wondering if more than one Project Sunshine ship is on the way.
According to Seatrade Cruise Review, the Finnish air condition contractor Koja Oy recently said that it had signed a contract with Meyer Werft " for the delivery of air conditioning systems for the first two Sunshine-project ships".  Included in that contract is an option for delivering air conditioner systems for third and fourth ships, if Royal Caribbean orderes them.
Based on that snippet of information, it sounds like Royal Caribbean is eyeing two ships to start with but we'll have to wait to get a better idea of what's to come when Royal Caribbean is ready to talk.