Royal Caribbean reports fire aboard Allure of the Seas' engine room
In:
Royal Caribbean's Allure of the Seas, the world's largest cruise ship, reported a "fire of short duration in the engine room," a spokeswoman said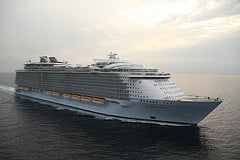 The ship was sailing from St. Maarten to  Port Everglades in Fort Lauderdale when an engine fire broke out at 7:45 pm on Friday, said spokeswoman Cynthia Martinez..
"The ship's high fog system was immediately activated, which contained and extinguished the fire."
No passengers or crew members were injured and the ship sailed to Port Everglades without any assistance. The cruise scheduled to return on Sunday.