Royal Caribbean deploying Mariner of the Seas to China in 2013
In:
Royal Caribbean is sending Mariner of the Seas to China in 2013 to join sister ship Voyager of the Seas that was already going to the Far East.  Together, Royal Caribbean will be able to offer cruises to Southeast Asia, Japan and South Korea.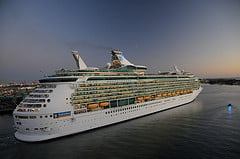 Mariner of the Seas will arrive in China in June 2013 and offer a number of itineraries from 3 to 12 nights.  The addition of Mariner of the Seas will offer additional capacity to a Chinese cruise market that is growing quickly.  Mariner will also adopt the same product customizations that Voyager of the Seas made to adapt to the Chinese marketing, such as Chinese-style menus, enhanced retail and entertainment offerings and language services.
To get to China, the ship will depart the Caribbean in April and head to Singapore and onto China via Dubai and the Suez Canal.
Royal Caribbean CEO Adam Goldstein commented on the move, "2012 is for our company the year of China."
"We see Asia in general and China in particular as a major strategic objective for our company," Royal Caribbean chairman Richard Fain said. "China has proven to be a very special market."