Did Royal Caribbean go too far at Tony Awards?
In:
Royal Caribbean has made quite an impact on the Broadway community after Sunday's Tony Awards, when Oasis of the Seas' production of Hairspray was performed live during the annual award ceremony.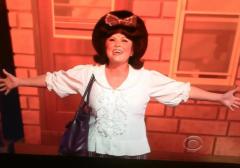 Some are saying the spot, which Royal Caribbean paid the Broadway League for the time, was an example of product placement gone too far.  Royal Caribbean and the Tony Award organizers are defending the act as a good fit.
The bit began with actor Harvey Fierstein walking on stage wearing a tuxedo jacket, a blue plastic inflatable inner-tube hugging his stomach, pink swim trunks, and hoisting a cocktail glass sporting a tiny umbrella.   Fierstein promoted Royal Caribbean's Broadway productions on select ships in the fleet and then we were shown a live show from the Beacon Theatre aboard Oasis of the Seas, where the sailing troupe of performers entertained audiences with two numbers from "Hairspray."
Charlotte St. Martin, executive director of the Broadway League doesn't think there was anything wrong with the sponsorship, "We thought it worked. They are a sponsor, they paid us to do it, and we felt that it was a good fit for the Tony Awards.  One of our goals is to spread the message about Broadway and make theater more accessible to people."
She added that this wasn't the first time the producers have tried to liven up the program, once simulcasting a musical number from Times Square. The cruise-line promotion, in the works for nearly a year, was simply a bid to reach new theater patrons, she said.
Royal Caribbean spokeswoman Lyan Sierra-Caro was also happy with how the production went, "We were very excited to bring our world-class entertainment to the millions of viewers watching last night's Tony Awards.  We also are thrilled to have partnered with the Broadway League to showcase the Broadway shows we offer onboard our ships."
On the flip side, many writers, social media commentators and others thought the spot was too much of a commercial.  Others in the theater community were more upset about the fact nonunion actors were used.
What do you think?  Was the Royal Caribbean spot tasteful?  Or was it a case of advertising going too far?