Royal Caribbean ship rescues 19 immigrants from Morocco
In:
Adventure of the Seas rescued 19 people early this morning, who were trying to get to Spain from Morocco.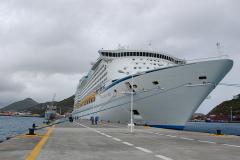 The small boat was sighted in the waters bordering Almeria and Murcia, Spain at about ten o'clock at night when many passengers were eating dinner.  The rescue took about 45 minutes around the area of Costa del Sol.
Of the 19 immigrants, mostly from Morocco, eight are children. All are in good health, except for the only woman traveling with them, 31 weeks pregnant, was taken to a hospital for further examination. Upon arrival at the port of Malaga, all immigrants were assisted by Red Cross and then turned over to the state security forces.