Royal Caribbean's Mariner of the Seas to visit India
In:
As part of Royal Caribbean's decision to move Mariner of the Seas to Asia, the large cruise ship will call on Goa and Kochi May 24 and 26, respectively, this year.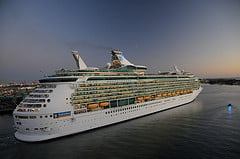 Mariner of the Seas will offer three-to-five-night cruises from Singapore to Penang, Langkawi and Kuala Lumpur in Malaysia, and Phuket in Thailand in June. Subsequently, it will move to China and offer a choice of four-, five- and seven-night North Asian sailings from Baoshan, Shanghai. Later in the year, the ship will return to Singapore and offer sailings till March next year.
Ships like Mariner of the Seas are able to visit ports in Asia thanks to construction of new cruise terminals.
Ratna Chadha, Chief Executive, TIRUN Travel Marketing, said, "In the past year, Royal Caribbean International's guest capacity in Asia has witnessed a threefold increase and our regional cruise offering has been augmented with two Voyager Class ships. We are pleased to bring more opportunities for WOW!, closer to home for Indian travellers."