Royal Caribbean will be first cruise line to visit new Hong Kong cruise terminal
In:
Royal Caribbean will be the first cruise line to offer round trip cruises out of Kai Tak cruise terminal in Hong Kong, which is scheduled to open next week.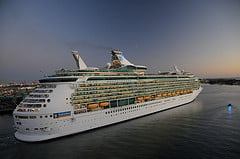 Starting this fall, Royal Caribbean will offer cruises on Mariner of the Seas.  Royal Caribbean is the first company to announce cruises that will home port from thr new port.
"Hong Kong is one of the most important home ports in Asia," said Dr Liu Zinan, Royal Caribbean's managing director of China. "Asia, including China, is one of the strategic markets for Royal Caribbean."
Mariner of the Seas has never visited Hong Kong before because it was too big for Ocean Terminal in Tsim Sha Tsui to handle.
When the Kai Tak terminal building opens next Wednesday, Mariner of the Seas will be the first ship to use the immigration counters, as part of a Singapore-Shanghai cruise in which Hong Kong is a port of call.
Shorter trips out of Hong Kong are lined up starting in autumn. At the end of October, the vessel will embark on a four-night round trip to two Taiwanese cities, Kaohsiung and Taipei.
A three-night return trip to Kaohsiung will take place in November, following which the Mariner will leave Hong Kong for Singapore for the winter season.
Making a city a home port is considered to bring bigger economic benefits than transits, as passengers may stay extra nights in the city before or after their standard itineraries. Last year, such passengers spent an average of HK$4,833 a day, twice as much as conventional tourists.