Report: Quantum of the Seas will visit Bermuda in 2015
In:
The Bermuda Sun is reporting that Royal Caribbean's newest cruise ship that is under construction, Quantum of the Seas, will make regular stops to Bermuda in 2015.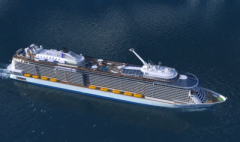 Last night a spokesperson from Bermuda said: "We have received an application from Royal Caribbean to deploy the Quantum of the Seas on a Bermuda itinerary for 2015 but no decision has been made."
"The Ministry is continuously working with our partners in the cruise industry to secure new itineraries for their ships." 
As of now, Royal Caribbean is only allowing bookings on Quantum of the Seas through April 2015, but itineraries after April 2015 have yet to be announced.
Bringing Quantum of the Seas to Bermuda is a boon for the local economy, with up to 4,180 passengers descending onto the island to put money into the local economy.  It's especially good news after Royal Caribbean cut back the number of cruises going to Bermuda in 2013 by 11.
Quantum of the Seas will sail out of Port Liberty in New Jersey and replace Explorer of the Seas.