Freedom-ice.com Ice Skating Show Review
In:
Perhaps one of the more underrated shows on any Royal Caribbean cruise is the ice skating shows that are performed on the Freedom, Voyager and Oasis class ships.  Ice skating shows don't usually grab people's attentions but the Freedom-ice.com show on Freedom of the Seas is exciting and very entertaining.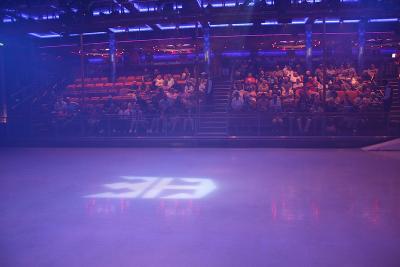 The Show
Freedom-ice.com takes place in Studios B and is a mash up of different eras of music set to interpretive ice skating dance.  I know that may not sound like the most riveting thing you could do on your cruise but it is a lot more interesting than you may think.
The cast of performers is an international assortment of ice skaters who have had various degrees of experience performing both on stage and in professional and amateur ice skating competitions.  Depending on which cruise you happen to be on, there will be one or two special guest stars who seem to have more experience than the rest of the cast and perform some of the more demanding tricks.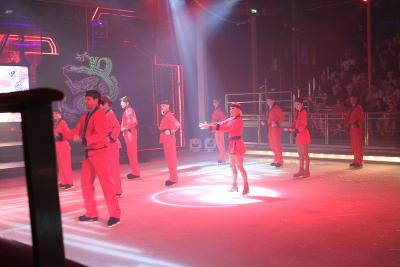 During each scene, the skaters come out in costumes set to match the music being played and dance along to the tunes.  Some bits will feature one or two performers while others feature nearly the entire cast.  It's the solo and duet acts that really shine because it gives those performing an opportunity to really show the audience their skills as ice skaters.  Often we will see double and triple axles, flips and other difficult tricks.  Not to be out done, the full cast sets astound for having so many people in such a small rink.
In terms of production value, Freedom-ice.com is really impressive with great choreography, beautiful costumes and elaborate sets.  It's astounding to see how many costume changes the cast does in just one show. In terms of the shows that are available to see on Freedom of the Seas, it's arguably the best.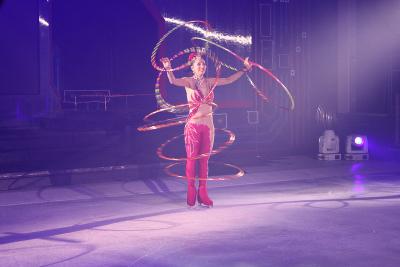 Comments
As someone that wondered how good an ice skating show can be, I was pretty darn impressed by what I saw.  What is really impressive about the show is the presentation of acrobatics, skating and costumes all while on a moving ship.  
Because the ship is moving, it's even more amazing how few falls there are during the performance.  There are times when I would be hard pressed to walk straight because of ship movement but these professionals manage to hit their marks.  While there is a fall here and there, it's rare to witness more than 1 or 2 per show.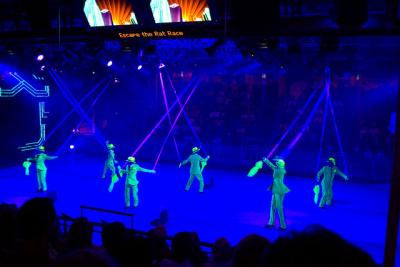 By far the audience relishes the difficult moves, such as the various spins and flips.  I won't pretend to know more than a triple axle is among the most difficult moves, but when it's done properly, it's an amazing sight.  
If you want to see Freedom-ice.com on your cruise, I highly recommend booking your tickets in advance.  Tickets are free but the line for the shows can get very long and quite often Studio B will fill to capacity.  Your best bet is to reserve tickets online before your cruise and be certain to arrive early.  
Freedom-ice.com is available on Royal Caribbean's Freedom of the Seas.  There is no cost to see Freedom-ice.com
In accordance with FTC guidelines, please note that my cruise and food were provided by Royal Caribbean International, of which this Freedom-Ice.com show was a part.  However, my opinions and reviews are my own.