Royal Caribbean announces Mariner of the Seas Winter 2014-2015 Season
In:
Royal Caribbean announced today 29 new cruises on Mariner of the Seas to Southeast Asia.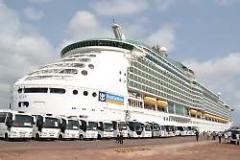 Beginning in November 2014, Mariner of the Seas will sail out of Singapore and offer three- to five-night cruises to ports such as Phuket, Thailand, and Penang, Langkawi and Kuala Lumpur (Port Klang) in Malaysia.
A special seven-night itinerary, departing February 11, 2015, will overnight at Bangkok (Laemchabang), Thailand, and call at Ho Chi Minh City (Phu My), Vietnam. Mariner of the Seas' winter season will conclude with an eight-night itinerary from Singapore to Shanghai (Baoshan), China, departing on March 7, and featuring an overnight at Hong Kong with calls at Ho Chi Minh City (Phu My) and Xiamen, China. 
The Voyager-class ship, Mariner of the Seas, has been operating between Asia and Australia.