Royal Caribbean cruise ship to host Latin dance competition
In:
Royal Caribbean's Mariner of the Seas will host the world's first cruise-based, all-champions Latin dance competition on January 16, 2014.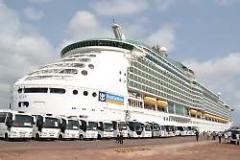 Cruise and Ferry reports that the dance competiton will onclude contestants such as Thailand's World Youth Latin champions Koupey Sahaifa and Sutatip Bunwila, Amateur Latin champions Johnston Lim and Nicole Tan from Malaysia and Japan Open champions Artyom Kilmenov and Giula Nuzio from Italy, among other top competitors in the 'Battle of the Giants' Latin Dance Championship.
Passengers onboard Mariner of the Seas will be able to vote for winners at the "Come Dancing on Mariner of the Seas" event. 
The latin dance competition is open to all guests on Mariner of the Seas and will also feature champions' previews and dance workshops, including technique tips for Cha Cha, Rumba and Rock 'n' Roll.
Mariner of the Seas will be calling at Port Klang in Kuala Lumpur and Langkawi during the four-night roundtrip from Singapore.