Quantum of the Seas could be too big for Bermuda
In:
Royal Caribbean's next cruise ship that is under construction, Quantum of the Seas, has plans to go to Bermuda in 2015 but simulations looking at if the new mega-ship can dock there have raised some questions.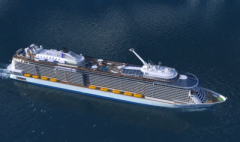 The Bermuda Sun reports simulation tests to determine whether Quantum of the Seas will be able negotiate Bermuda's channels have been undertaken in Baltimore.
Modifications may have to be made to the North Channel in order to accommodate Quantum of the Seas, which has a bigger draft than the next largest ship to dock in Bermuda, the Norwegian Breakaway.
Officials in the Bermuda government have indicated to the Bermuda Sun that despite Royal Caribbean's published plans to send the new ship to Bermuda, a final decision had not been made yet to approve the itinerary.
A spokesman for the Bermuda Ministry of Transport and Tourism told the Bermuda Sun: "A decision on the Quantum of the Seas sailing to Bermuda for the 2015 season has not yet been made.
"However, the Bermuda Government continues to work very closely with Royal Caribbean International principals and technical officers and a decision will be made in due course.
"The Quantum of the Seas vessel simulation exercise was completed by the Department of Marine & Ports Senior Branch Pilots on November 13 and 14 at the MITAG facility located in Baltimore.
"The information and data obtained from simulation exercises will assist in determining if modifications are required to our channels to ensure safe transit of the vessel. Once the report is presented a decision will be made based on the channel modification requirements and the associated timelines to complete."