Quantum of the Seas too big for Bermuda
In:
Simulation tests have proven that Royal Caribbean's newest cruise ship that is currently under construction, Quantum of the Seas, is too big to be able to dock in Bermuda.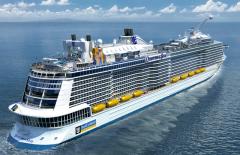 The Bermuda Sun reports the tests revealed the existing North and South Channels were not big enough to safely accommodate the vessel, especially in high winds.  If Bermuda wants to be able to host Quantum of the Seas, then dredging will need to begin soon.
A Government spokesman told the Bermuda Sun: "The principle dimensions of the vessel, in particular, its predicted draft at 8.5M, was an early indication and evidence that modifications to either channel would be required to ensure safe transit of the vessel.
"The recently completed simulation exercise provided real-time information on the vessel's performance, maneuvering and handling characteristics under various wind and speed conditions.
"The simulation exercise also provided critical data on channel depth and width requirement in specific areas.
"Technical officers from the Ministry of Public Works in consultation with the Department of Marine & Ports will analyze the simulation report and trial run data, and then provide recommendations that will be considered by Cabinet."