New state-of-the-art data management system installed on Allure of the Seas
In:
The world's largest cruise ship, Royal Caribbean's Allure of the Seas, has received a new state-of-the-art, customized data management system that operates over a global, secure and highly scalable infrastructure called K-IMS.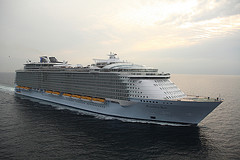 K-IMS includes a number of applications in one package that gives engineers and management access to high level vessel data. The user interface is available on board and on the Royal Caribbean office network in Miramar, Florida. K-IMS data is also accessed on board using tablets and is displayed on a large screen in the Engine Control Room on Allure.
K-IMS was installed during a significant upgrade to the existing Kongsberg Maritime K-Chief automation system on board. The new K-Chief on Allure of the Seas is one of the most extensive ever installed by Kongsberg Maritime, consisting 76 Remote Control Units (RCUs) controlling over 40,000 Input/Output (IO) points. K-IMS replaces the exiting K-Chief History Station and as the data logging system of choice on board, will provide data from 21,000 I/O points (up from 14,500) and data storage for seven years (up from one year). This provides Royal Caribbean with extensive data and statistics with which to improve vessel operational performance.
K-IMS provides the ability to review statistical data, condition based monitoring, alarms and events and ship performance monitoring data. Condition Based maintenance on Allure provides a long term overview of the equipment performance and mechanical degradation, which supports preventative maintenance. Alarms and Events reporting provide the ability to review the most commonly repeating alarms and fix issues with equipment before they become emergencies.
The K-IMS solution on Allure is a triple redundant data access and storage system with servers located in three zones – two on board and one in a hosted cloud service. This configuration enables Royal Caribbeanmanagement to access the vessel's data without having to use satellite communications, thereby saving on communication costs. A malware protection system to filter out any malicious attacks from the web or via USB on board is included whilst an admin server allows secure remote access to the vessel from authorized locations including the Kongsberg Maritime customer support team.