Royal Caribbean signs 10-year deal with Port Canaveral
In:
Royal Caribbean has signed a 10-year agreement with Port Canaveral to keep a cruise ship presence there for quite a while.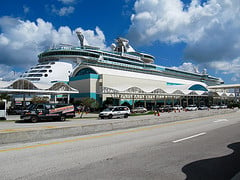 Florida Today reports Royal Caribbean will also provide an additional $48 million to Port Canaveral over the next 10 years as part of an agreement to become the primary user of the new Cruise Terminal 1, scheduled to open in November.
The $48 million will come from a $4 to $5 fee on tickets for Royal Caribbean passengers using Port Canaveral, according to Florida Today. The port plans to use the $48 million to help pay for construction of the $68.5 million terminal complex, which is just east of the Cove restaurant district. That cost includes site work, the gangways and an adjacent 1,000-vehicle parking garage.
The new decade-long agreement will more than double the guaranteed annual revenue to Port Canaveral. By 2024, Port Canaveral will get $18.4 million in guaranteed money compared to just $7 million in 2013.
For Royal Caribbean, the new agreement will allow for more flexibility to move ships into Port Canaveral and even open the door to the cruise line bringing even larger ships to Port Canaveral.
Port Canaveral Chief Executive Officer John Walsh is excited about the new deal, "I've literally heard four or five scenarios" on how the shifting of Royal Caribbean ships could affect Port Canaveral For us, it's a win-win, without tying their hands on flexibility."
Walsh also indicated that Royal Caribbean will get preferred scheduling at the 188,514-square-foot Cruise Terminal 1, which is being designed to accommodate the world's largest cruise ships. But other cruise lines also will use the terminal.
Walsh said port commissioners likely will vote on the Royal Caribbean deal next month.