Royal Caribbean offers refunds to Adventure of the Seas passengers
In:
Royal Caribbean announced it will offer a full refund to all passengers on the March 23rd sailing of Adventure of the Seas and 50% off a future cruise after mechanical problems crippled the ship and forced it to remain in San Juan since Sunday.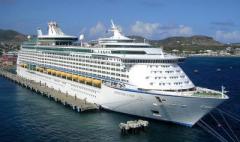 Royal Caribbean did indicate Adventure of the Seas is planning on sailing as soon as possible, with stops in Antigua, St. Lucia and St. Croix as soon as possible.
Adventure of the Seas first reported a problem last week, when oil started leaking from one of its fixipods which required a signifigant decrease in propulsion.  The ship limped back to San Juan, where it has been ever since.
Passengers on last week's sailing and this week's sailing have been upset with Royal Caribbean over inconsistent communication.
Update: Due to delays on the 3/23 Adventure of the Seas sailing, guests onboard will receive a full refund & a 50% future cruise certificate

— Royal Caribbean (@RoyalCaribbean) March 26, 2014
The ship will continue on from San Juan to Antigua, St. Lucia and St. Croix as soon as possible.

— Royal Caribbean (@RoyalCaribbean) March 26, 2014