Royal Caribbean will expand Dynamic Dining to Allure of the Seas
In:
The largest cruise ship in the world, Royal Caribbean's Allure of the Seas, will be converted over to Dynamic Dining.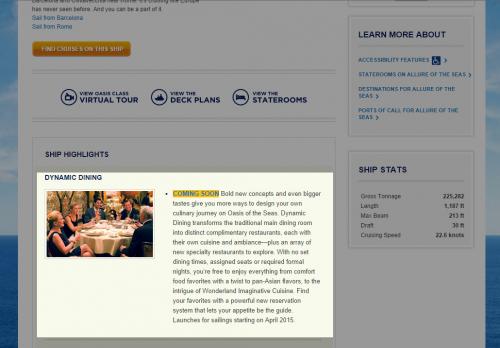 Dynamic Dining is the new twist on traditional cruise ship dining.  Instead of a main dining room with fixed dining times, smaller restaurants are spread all over the cruise ship to offer more choice in ambiance and cuisine.  Some restaurants will be complimentary while others will have a cover charge to dine there.
Earlier this year Royal Caribbean announced sister ship Oasis of the Seas would be converted to Dynamic Dining and it was widely speculated Allure of the Seas would follow suit. 
Royal Caribbean's web site is now reflecting the change coming to Allure of the Seas, although the content there appears to have been copy and pasted from the Oasis of the Seas description.
Allure of the Seas is scheduled to go into drydock in May 2015 and will then offer Mediterannean cruises from May 2015 to October 2015.