Royal Caribbean postpones Dynamic Dining on Oasis of the Seas and Allure of the Seas
In:
Royal Caribbean has delayed the introduction of Dynamic Dining to its two largest cruise ships, Oasis of the Seas and Allure of the Seas.
There's no new date when Dynamic Dining will be activitated, but Royal Caribbean did indicate it will occur "later this year".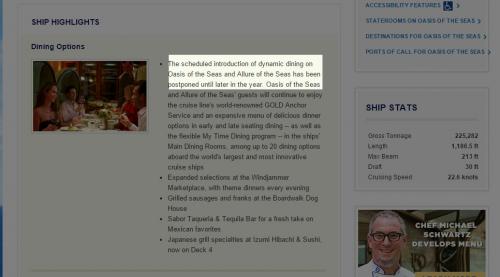 In the meantime, both ships will continue to serve traditional dining experiences in the early and late dining seating.
Royal Caribbean had announced in August Dynamic Dining would expand to Oasis of the Seas and during a recent refurbishment, the ship's main dining room was re-arranged to create the Dynamic Dining restaurants.
Then in October, Allure of the Seas was included in the Dynamic Dining lot as well.
Dynamic Dining is the new twist on traditional cruise ship dining.  Instead of a main dining room with fixed dining times, smaller restaurants are spread all over the cruise ship to offer more choice in ambiance and cuisine.  Some restaurants will be complimentary while others will have a cover charge to dine there.