Royal Caribbean looking to expand its headquarters in Miami
In:
Royal Caribbean Cruises Ltd, the parent company of Royal Caribbean International, is looking to renovate and expand its corporate headquarters.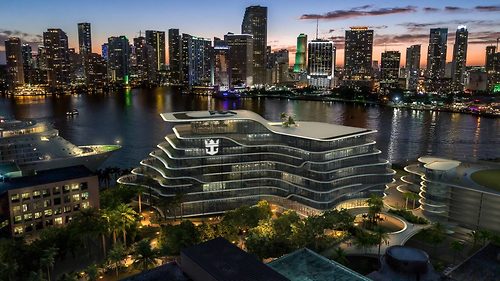 South Florida Business Journal reports the project would cost approximately $300 million and be located at the southwest corner of Dodge Island next to where its older offices sit now. The new campus would expand the company's workforce capacity from 2,200 to 4,200.
The plan is to would demolish the building at 1040 Caribbean Way. It would build a Terminal K parking garage with about 1,820 spaces plus a new unspecified size office building. Royal Caribbean would perform major renovations to the buildings it leases at 1050 and 1080 Caribbean Way.
When finished, the renovated and expanded headquarters would include a fitness center, a daycare, a cafeteria, an auditorium and a maritime innovation center for the design development and renovation of cruise vessels.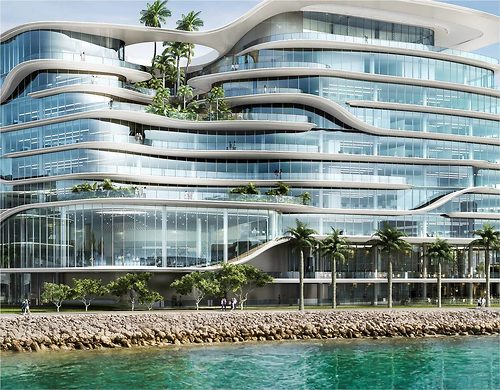 The Miami Herald reports the design for the new buildings is by New York architecture firm HOK. The building is designed to look like a ship.  Royal Caribbean's giant crown logo will be emblazoned on the roof to catch the eyes of airline passengers overhead.
Royal Caribbean's Chief Financial Officer Jason Liberty also talked about the focus on climate change and the need to make changes to the buildings now. Liberty said to prepare for inevitable sea level rise, the company plans to build the structures 15 feet above sea level and store critical machinery on higher floors. Many climate models project Miami streets will be flooding daily by 2070.
On Monday the Miami-Dade Tourism and Ports Committee approved a deal, but the full board of commissioners will vote on the proposal in May.