Royal Caribbean will send more ships to Europe
In:
Royal Caribbean is planning on sending in the summer of 2011 as many cruise ships to Europe as ever before. Eleven ships will be in operation in the Mediterranean and Northern Europe, the company said in Frankfurt, Germany.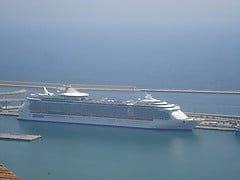 That's three more ships than in the current summer season 2010. Also announced, the Brilliance of the Seas in the winter season 2011/12  will be reinstated in the Persian Gulf. The first tour to/from Dubai begins in November 2011 and that two months earlier than in the coming winter season.
For the first time this side of the Atlantic, Liberty of the Seas with space for up to 3634 guests, will be traveling in the summer of 2011 the 339 meters long, . It belongs to the second largest class of ship in Royal Caribbean's fleet and will travel from Barcelona to the western Mediterranean. Also for the first time in Europe is Grandeur of the Seas (279 meters, 2446 passengers), with a base port in the Palma de Mallorca. In Genoa, Mariner of the Seas begins the third Euro-novice their travels.