Royal Caribbean is a major player in the port of Malaga, Spain
In:
Royal Caribbean has just embarked on becoming the largest operator at the cruise port in Malaga with a challenge on the horizon of moving 75,000 passengers.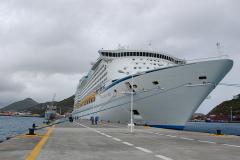 The company opened its third season in Manchester and the second with the ship Adventure of the Seas , a veritable floating city where passengers enjoy experiences such as skating on an ice rink, climbing or attend a show worthy of the billboard Broadway.
This ship was activated an operation that provides up to 28 outputs from the port of Malaga cruise one week until the end of next October.  Malaga thus constitutes the second most important point of embarkation for Spain for Royal Caribbean, behind Barcelona.
The ship Adventure of the Seas has planned seven-night cruise sailing the Mediterranean and visiting cities such as Rome, Pisa / Florence, Ajaccio in Corsica, Malaga and Valencia.  The novelty of the season is that in autumn, the ship carried four-night short breaks from Manchester visiting Lisbon, Madeira and the Canary Islands.
Marc Pedrol, communications director for Royal Caribbean's goal this year is to consolidate Málaga a product that is working well and that has permeated the force.  Pedrol reported that in 2010 the ship moved 63,000 passengers in Malaga, of which 38,000 were Spanish. This year the challenge will reach 75,000 passengers in Malaga, of which half will be Spanish.
An important market in which Royal Caribbean wants to focus this year, with reinforcement of personnel and marketing activities, is the capital of Spain. The idea is to turn the port of Malaga from Madrid who love cruise travel.
Thus, the ship keeps the agreement reached with the railway operator Renfe that allows them to check their luggage at Madrid's Atocha station before boarding the AVE Malaga direction and find the bags in their cabins.
According Pedrol, 'this year we have ahead of departures from Manchester compared to last year and have changed the itineraries in the fall season. We are delighted with the response and hope to continue growing in this city. "