Royal Caribbean getting ready for summer cruise season in Italy
In:
Royal Caribbean is getting ready to kick off the summer season in Italy. Among these there are two Voyager Class ships including Navigator of the Seas and Mariner of the Seas.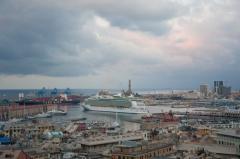 Navigator of the Seas will offer cruises of 7 nights between May and October from Civitavecchia and the new home port of Messina. Mariner of the Seas will offer cruises from June to September, with a new route of 7 nights in the Western Mediterranean from Genoa and Civitavecchia, from May to October, 12-night cruises to the Holy Land from Civitavecchia.
Another novelty of the season will be cruises of 6, 7 and 8 nights from Venice and the new home of the re-port of Bari with Spendour of the Seas, which completed a dry-dock refit in November 2011, and is ready to return to Italy with some of the most exclusive of the upgrades including more technology, more rooms with balcony, new restaurants and entertainment options.