Royal Caribbean announces repairs for Allure of the Seas in 2014
In:
After suffering with mechanical issues that affected Allure of the Seas for weeks, Royal Caribbean announced today that the world's largest cruise ship will take a week off to undergo repairs to solve the issue.  The repairs will take place at Grand Bahama Shipyard, in Freeport, Bahamas, the week of February 24, 2014. As a result, it will be necessary to cancel the February 23, 2014, sailing of Allure of the Seas.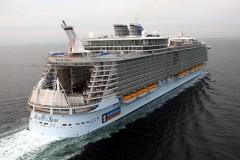 Allure of the Seas' speed has been reduced because of bearing wear in one of its three propulson motors.  There's been no impact on safety of maneuverability, it's simply required Allure to go slower.  
Those guests booked on the February 23, 2014 sailing will recieve a full refund or the option to sail on other itineraries for the same rate.
Royal Caribbean CEO Adam Goldstein was commented on the need for the repairs, "We sincerely regret that we will be unable to deliver the Royal Caribbean cruise vacation that our guests were looking forward to. We understand that our guests' vacation time is very precious and can assure you that we did not take this decision lightly. But it was very important to us that we bring Allure back up to speed so that she could continue to deliver the amazing cruise vacations our guests expect."
"While Allure could have continued to sail at a reduced rate of speed, we felt it was important to fix the problem as soon as possible," said William D. Baumgartner, senior vice president of Marine Operations, Royal Caribbean Cruises Ltd. "We explored numerous repair options. Unfortunately, there was no satisfactory solution that did not involve taking the ship temporarily out of service."
In the time between now and the repairs, Allure of the Seas will make minor adjustments to its eastern Caribbean itineraries. Allure of the Seas will now call on Nassau, Bahamas, from 7:00 a.m. to 1:00 p.m. and on Charlotte Amalie, St. Thomas, from 11:00 a.m. to 5:00 p.m. There is no need to modify Allure of the Seas' western Caribbean itineraries.